Are you looking for a way to express yourself? Are you looking to build channels of passive income?  That's exactly what bloggers do. If you want to be one of us, stay and let's have a look at how to start a blog and stand out in a crowd. With blogging, you can make a difference in your life and in the lives of others while generating a great amount of income.
Bloggers primary goal should be to create helpful content. Thin content these days is not making any impact at all. Focus on quality over quantity.
Quality is the most appropriate metric of your blogging success.
It is like two sides of one coin.  People will be only willing to spend their hard earned money if they feel understood. The internet is full of rubbish and to stand out; you need to provide solutions.
Define the problem and create a quality blog on how to solve it.
How to achieve that?
Share your passion
If you are good at sport, you should not blog about finance because you will need to invest an enormous amount of time on research to make it work. Many people act like that, they start a niche with bigger "jackpot" rewards and try to sell it. It ends up to be a boring piece of content.
Instead, share your passion and write with depth. Speaking of the surface often means blah blah blah and creates no value in your reader's eyes that is why you don't want it.
I hope that makes sense to you.
To succeed in a blog, you need to engage with your readers. None likes to read boring information. Bloggers are not companies, because of that, don't act like the one. Keep your blog conversational and that will help you build relationships with your audience.
Keep this in mind, when creating your first blog, the Internet is pretty flooded with quantity, so aim to deliver quality. Quality always stands out and is appreciated by your audience and it helps to build a respectable brand that converts sales.
Creative writing
You have creativeness in you and if you blog, you will expand it. Don't doubt yourself, self-development starts with believing in yourself. If you advance confidently and commit to constantly working towards achieving your goals, you will blog better. Blogging is simple but difficult you will outperform everyone if you will be more consistent than others. Many are waiting for inspiration to write, others write and then get inspired. Which one are you? Remember- practice leads to perfection.
Strategy
Every company that ever achieved a huge success had a plan. No business can be sustainable without a solid strategy, and you are no exception. You got to develop a strategy and sharpen your focus to get there. This way, you can select the best options for you and don't waste the time on topics that are unnecessary. Above all, the strategy will help you overcome everyday challenges, because of your ability to see a bigger picture.
Nokia was the biggest phone manufacturer for a decade but then it fell down like a rocket. What does that tell us? Poor strategic decisions lead to failure. Don't make the same mistakes.
Copywriting
Great bloggers learn to succeed in copywriting. It is a high-income skill, which will allow making tons of money for you. Develop and use this skill every time you have a product to promote.
Have you wondered why some ads really impact you? Sometimes, when you read it, it feels like the promoter knows your every pain and desire. That's what the copywriting is about.
To create a good copy, know your customer.
Create a customer persona!
When creating your potential customer persona, be specific. Think about their location, their job, their car, their family house, clothes, hair, etc. The more you understand, the better your chances to tailor perfect material for them. Know their needs, pain, and dreams, be specific. What are your customer beliefs about your product?
You need to know all the above because,
Great copywriters identify and break customer persona beliefs!
Your reader doesn't trust you and your content at the beginning. You need to list their objections one by one and eliminate with proof, what you gathered in research.
It is important to pay attention to the ad image and headline. Make them simple but direct while addressing a solution to potential customer problems. The trick is to grab their attention, otherwise, your content won't be clicked on.
To stand out, create a "big promise" headline. Your promise must match your potential customer expectations and the bigger the promise the better.
To come up with a big promise, you need to research. I discover the best ideas through the gathering of information. No need to invent the new wheel, follow trends and insect information is in demand.
For example,
go to Pinterest because it is a fantastic place to find what is trending besides Google Trends. Pinterest is a visual engine, don't get fooled by thought this is just another social network. You can get so many hot and trendy ideas while browsing pins. I am always paying attention to which pins have a high number of shares. I see that as a metric of popularity and it gives insight about what people really want to read.
Extract idea from those popular pins and represent it from your own point of view.
Use your own words. Don't just copy and paste, that is always a bad idea.
Proven technique 
To increase the traffic, you better use a well-known master strategy in your content/blog posts: Hook, Story, Offer.
Big promise headline with an irresistible offer is something you need to pay attention to.
People love stories. To clarify, the story will help you create better bonding with your customer. Facts show evidence but stories sell. You might ask why they sell? Because when you read a good story you can associate it with your life and feel emotions caused by it. Those emotions are the reason people just can't resist your offer.
 
Where to begin
There are many ways to blog. Around, 6 million people blog through social networks and that is perfectly fine. That way you can meet many good friends who you can share your thoughts with. However, if you are looking to build a passive income through blogging, have a different approach.
Using WordPress as a content management platform is the number one choice for bloggers. In fact, WordPress is the only reasonable platform for bloggers used everywhere around the world. So, the question is, how to build a website on WordPress?!
This is where things are getting more interesting.
You will need to get your own website hosting.
It is a very competitive niche. I would recommend thinking about your expectations from your website hosting platform. You need to identify what support and tools you need to create your content and run a website with ease.
Depending on your requirements I selected these two hosting platforms. I will explain further why them:
Siteground is trusted by over 1.9 million domain owners. They are very highly rated and easily beat everyone on the price tag. SiteGround is officially recommended by WordPress. If choosing them, you should expect:
24/7 responsive customer support
Hassle free website hosting
Free SSL security for your website
SSD hardware for faster loading times
Data centers in America, Europe, and Asia
Free domain transfer, if you already have a website
The top rated hosting platform
Free backups
Perfect for beginners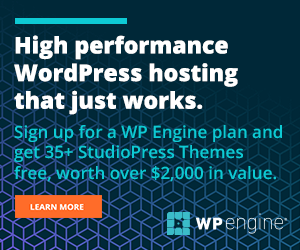 In my opinion, WP Engine is a great alternative for those who aim for even more high-end performance.
24/7 Customer support
Hassle free website hosting
SSL free website security
Staging
Website optimization
Premium themes included
Site speed optimization plugins
Content optimization
The fastest loading times
Free Backups
Content Optimization
Experienced bloggers know that content creation is just part of a "job". It requires two things to emerge to make a masterpiece. Content optimization makes the blog complete.
Blogging started in the '90s and it evolved since then. Bloggers have to pay more attention to additional details at this stage because search engines changed their content ranking algorithms.
Therefore, you need to know about content optimization key points.
Keywords
Know your audience. Create attractive titles to grab their attention. Remember your keywords will appear in the Google search engine to make sure they make total sense. In the beginning, use a long tail keyword because it is much easier to rank for those. It won't make sense to start with short keywords because that is where all the competition is.
Metadata
Take your time and pay attention to meta title and description of your blog. These are very important indicators for Google to understand what your content is about. This information also will be displayed in search engines.
I have taken this image from Google search results. As an example, look below Facebook.com. That information is metadata, and it is crucial to make your website attractable to users.
Use internal and external links and aim for backlinks
This is major.
Links provide valuable information to search engines about your blog. They can validate the importance of your blog, looking at the quality of your links. If those links are related to your content and points to quality sites, the search engine will give you more authority. Therefore, that will lead to a better ranking and more traffic.
Aim linking only with relevant websites in your niche.
More quality links mean more network which leads to more customers.
Remember the internet really is a network of networks. Aim for a bigger network.
Readability
Make sure that your content is easy to read and enjoyable. On average, your readers read only 20% of your content, that's because they are browsing the web in hope to find the answer to their question. So, how to keep them longer in your site?
Keep your paragraphs shorter
Use headings and subheadings
Use a more active voice in your sentences
Highlight important things in bold
Key information should appear closer to headings
Write like you speak 1:1
Be personal
Use graphics
Grammar and spelling matter
Make sure your grammar is correct otherwise, it will slow down your readers. Wrong grammar can ruin a beautiful story, don't let that happen. Technologies are here to help improve your writing style.
Grammarly does it perfectly
Get corrections from Grammarly while you are creating your content. Grab it for free.
Monetize your blog
Monetizing a blog is easier than ever. Most common ways used are affiliate marketing and ads.
If you want to go for displaying ads on your site, Google AdSense is a great option. All you need is to open your account and insert their ads on your website. Every time someone clicks at this ad, you are getting paid. They pay money per click which is 68% of what advertisers have been paying.
Top sites make around $10 000 per month from Google Adsense.
Affiliate Marketing
This is the most common way to make money online from blogging. Thousands of companies are happy to cooperate with you as a blogger. They make money if you sell their products and you get your commissions for your effort.
To learn more about affiliate marketing check my post
Email marketing
I strongly suggest collecting emails at the beginning of your online journey. Email marketing still is a great tool to use to grow your business in 2019. It still wins over social networks, so use it as your advantage,
What if you write an e-book? Where are you going to sell it? Yes, the most efficient way is by email. Have a strategy to collect emails from your readers. Lots of blogs have the traffic of thousands of people per month.
Think how great can be your email list after a few months of collecting them. Trust me, that will represent great value and anytime you create something new, reach out. There are people out there making 6 digit figures with email marketing only.
Start your journey right now
If you like what I wrote, follow my recommendation on how to start a blog and stand out in a crowd.
The key to standing out in blogging competition is research and writing.
If you feel you could or have something to share, just do it. Start your journey right now. I am saying it with certainty because I had a low self-confidence before I have blogged. Blogging improves your ability to influence other people and it will increase your self-confidence. When you are self-confident you are doing things, you thought can't be done. You can become a person you were meant to be.
I am saying this from my experience. We are what we constantly do if you are prepared to blog be ready to read more, to gather more relevant information and to become an expert in your field. Now you are causing an effect.
This is how you make a difference.